We have updated the conversion funnels in an effort to further enhance the ultimate marketing analysis tool. Find out which channels and sources generate the highest profit. Enjoy easy access to analytical data with auto funnels which do not require manual configuration.
Who drives customers and where is the profit?
In many systems, funnels are implemented as a formal feature, which lacks important functionality and details. Some other systems include the necessary functionality but make the funnels extremely complicated, thus making the desired channel, source or campaign search very difficult. Users need toapply additional settings and create filters whenever a new event or traffic channel is added. Moreover, channels from different filters cannot be efficiently compared.
We made funnels easier: each one of them automatically provides the maximum available details.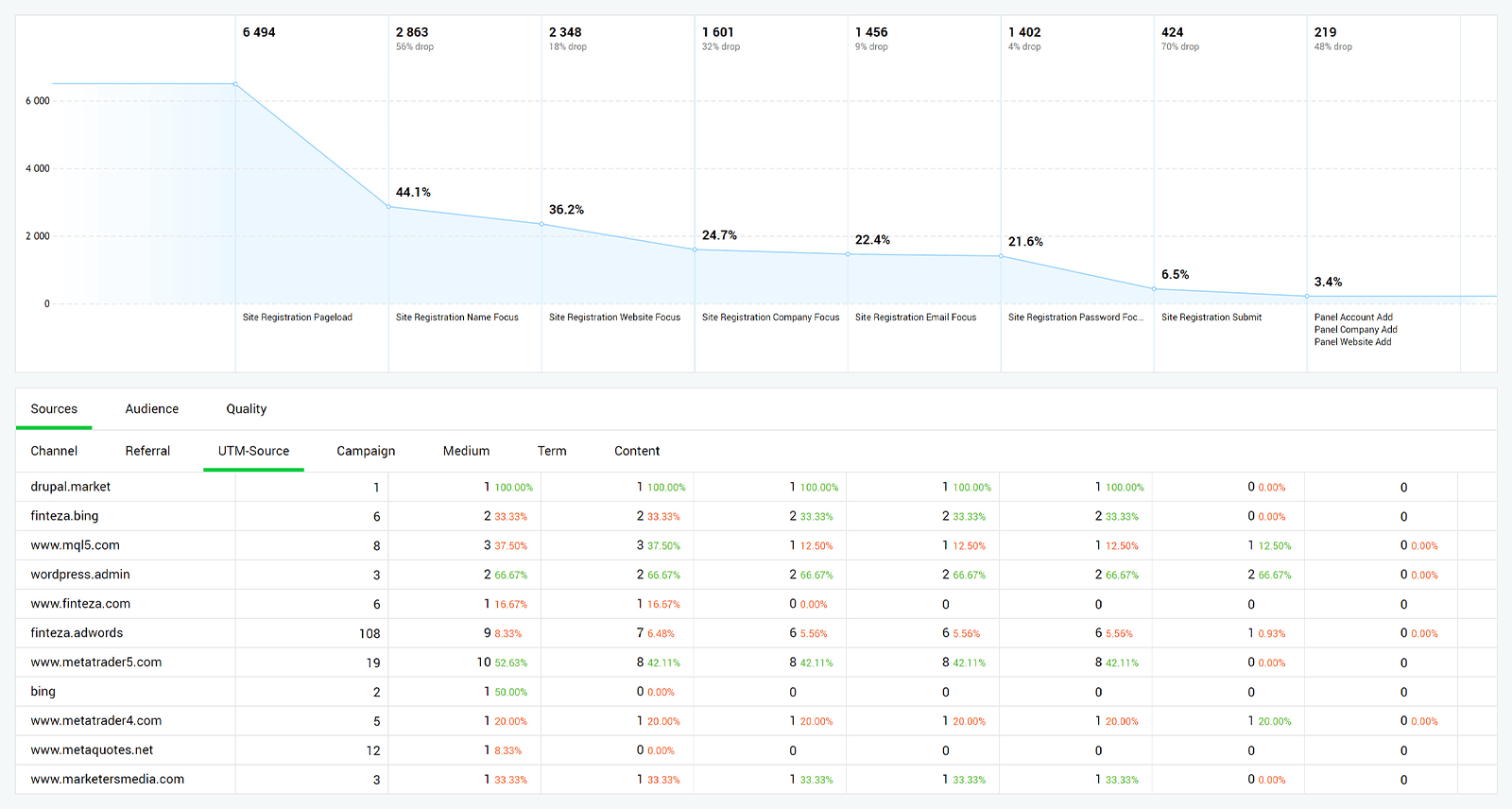 Access the advanced conversion funnel functionality:
Channel attraction funnels
Spot channels with the highest conversion rates, whether it is a referrer, an affiliate company, an advertising campaign or an individual ad banner. You can instantly access the details of all funnel stages.
For example, a 10-step funnel shows 5 different advertising campaigns from Adwords. Most of the paid visits stop at the second step, while only a few users reach the target stage. Thus you can identify well performing campaigns, key words or separate ads which lead to conversions.

For example, the "Order flowers" request attracts a lot of users, but most of them do not browse further than the landing page. Your second landing page with the request "Order flowers delivery today" might be attracting less visits, but conversion rates can be much higher. This means that the request, related block and landing page are efficient. Let us consider the first case. The problem definitely occurs at the 'Click on the ad' - > 'Landing page' stage.

Is it hard for you to determine weak campaigns? Do you use effective key words (or GDN topics and audiences) and appropriate adverts? Does your landing page feature adequate information and proper links? Check the conversion funnels to examine the efficiency of each separate stage.
Example 2: You are using an affiliate network and you are purchasing leads (registrations) from multiple affiliates. Other systems only present the number of incoming visits and registrations. Finteza presents all further steps of such visitors, in detail.

Users driven from separate affiliates, might complete the registration process and ultimately look like real potential customers. However, if they do not proceed to further funnel steps, or if they do not make repeated visits, or if they do not add products to the baskets or purchase them, this might by an indication of bot traffic. Consequently, the list of affiliates would have to be revised in the search for more efficient channels.

Key audience characteristics
All funnel steps are provided with user related details, such as device, operating system, browser, geographical location, language and screen resolution, among others. These are important details which can help in outlining reasons of possible conversion rate reductions.

For example, the "Flower delivery" advertising campaign on Facebook shows high losses in the fifth stage. Analyze the funnel details. Your ad may be displayed to people from all over the country, while you only offer delivery to three cities. It may also turn out that mobile users do not reach the targeted action due to an inefficient mobile order form.
Traffic quality

The share of real users (green) incoming traffic is presented by the means of a visual report. In an efficient campaign, such users should reach the final funnel step with minimal conversion losses. If a large number of real visitors is lost along the way, then the appropriate conversion stages would need improvement and revision.

Yellow traffic shows visitors who use HTTP proxies, VPNs or TOR networks. These connection methods are often utilized by suspicious visitors. Thus, as expected, this category usually shows lower conversion rates.

Red color is used for the lowest-quality traffic, which includes bots, spoofers etc. This group showsthe lowest or even zero conversion rates.
The share of yellow and red traffic should not be high. In the example with the affiliates providing non-converting leads, most of the traffic may be yellow or red, indicating bot visits.

All available data is displayed in a table for clarity and efficiency. Navigate to Sources - Referrals to view the domains which drive traffic to your site and analyze visit behavior from different sources. Compare channels and define the most efficient traffic sources.

No need to configure funnels
Naming rules enable automated funnel creation.

Use the same prefix for a group of related events. For example, prefix Flower.com can be added to events, such as Register, Add to Cart, Add Payment and Purchase. Finteza will link all four events into a single conversion funnel and will arrange actions accordingly. The following funnel will be generated:


Simplified sales funnel of the online flower shop

You can automate the creation of funnels for your entire site. Use proper events and the system will reflect visits in automatically created funnels. If you stop tracking any of the events, appropriate funnels will be hidden from the active control panel. Thus only actual conversion funnels are displayed, while the need to reconfigure is eliminated.

Funnels without events?
Funnels can be created even if you do not have any events. Specify addresses or address masks as stages to see how visitors complete a chain of actions: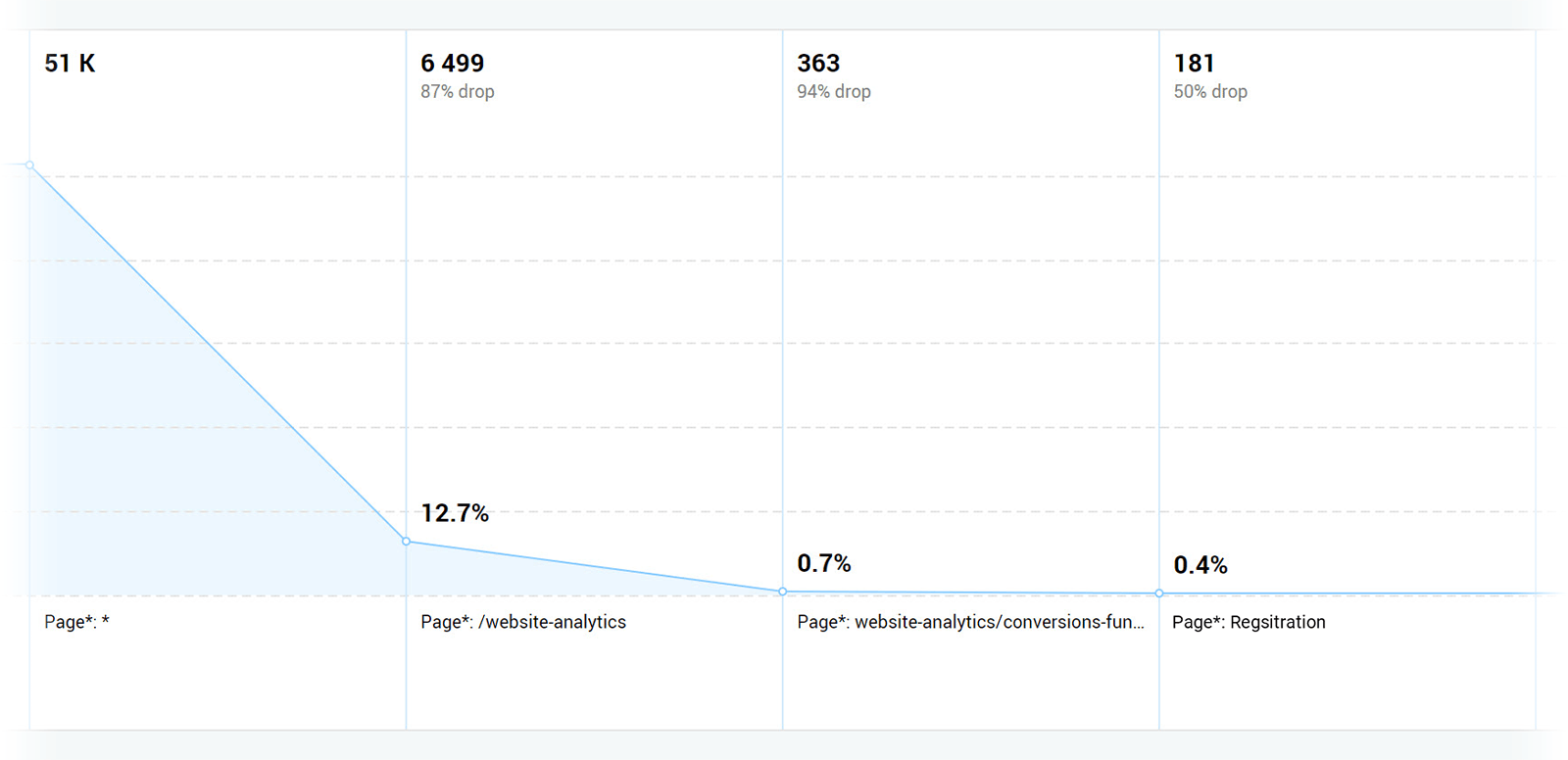 These funnels are also provided with details such as source, audience and quality. You can select any visitor segment from the general traffic flow and track related conversion rates.

Funnels based on page addresses are suitable for well-structured sites. For example, if all registration stages are located in pages with different addresses, you can create the following funnel: [1/landing - 2/registration – 3/registration_success – 4/registration_confirmation].
Optimized funnel management
The funnel management interface has been redesigned. Now the funnel list, reports and editing options are featured in three different screens. The first screen features the list of saved and automatically created funnels.
Click on any of them to switch to the report mode for detailed data analysis. All details concerning conversions are provided in the lower part of the screen.

If you want to change a funnel, just click the corresponding button in the upper right corner and switch to edit mode. The lower part will display the available funnel components. Save changes and switch back to the report mode to view related visitor actions.

Enjoy the most efficient data analysis with the improved conversion funnels. We will continue to improve the service design and functionality.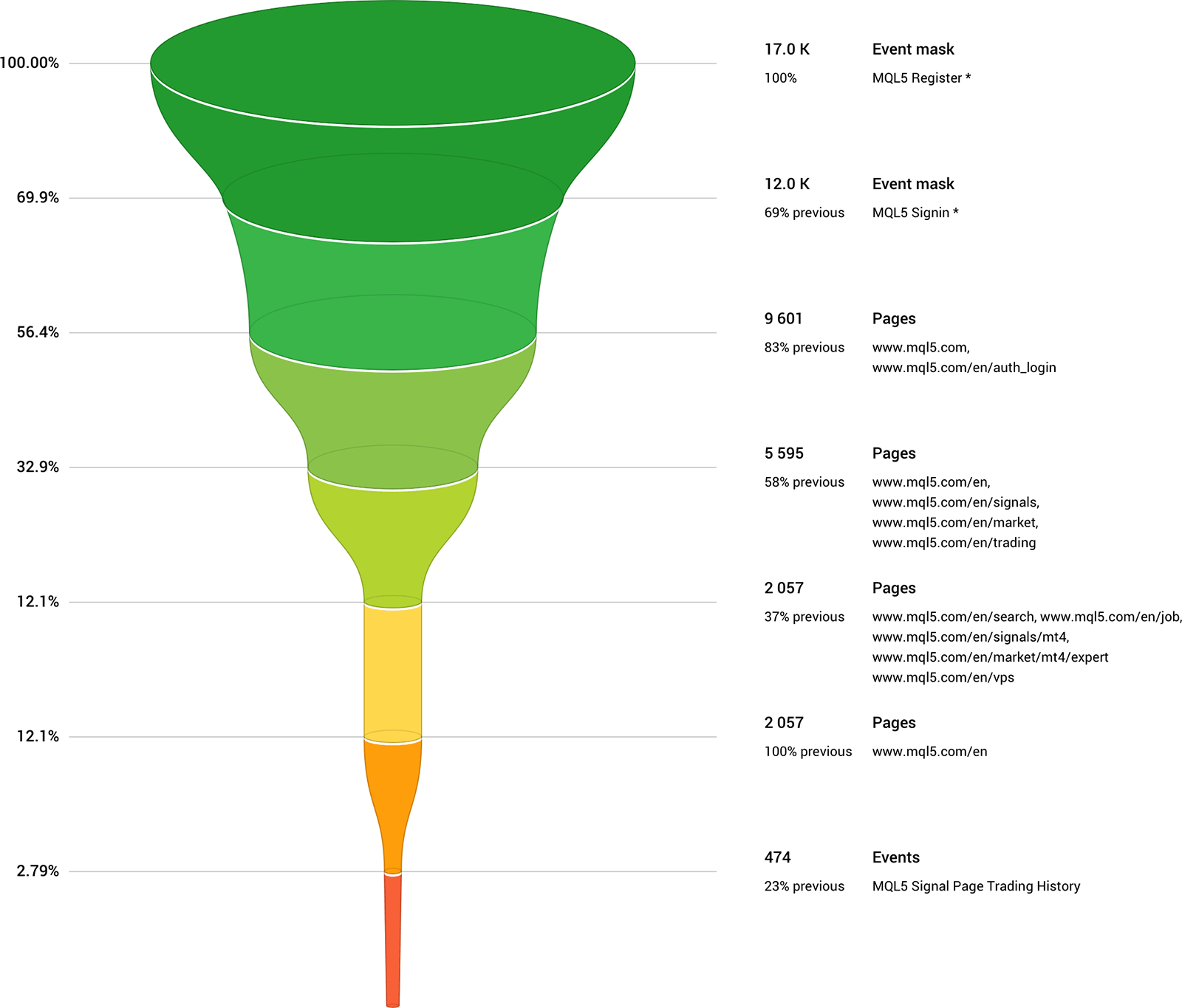 Follow the news and use Finteza: it is available free of charge.