Are you ready to take active steps to increase the conversion rate? Create the most effective marketing campaign!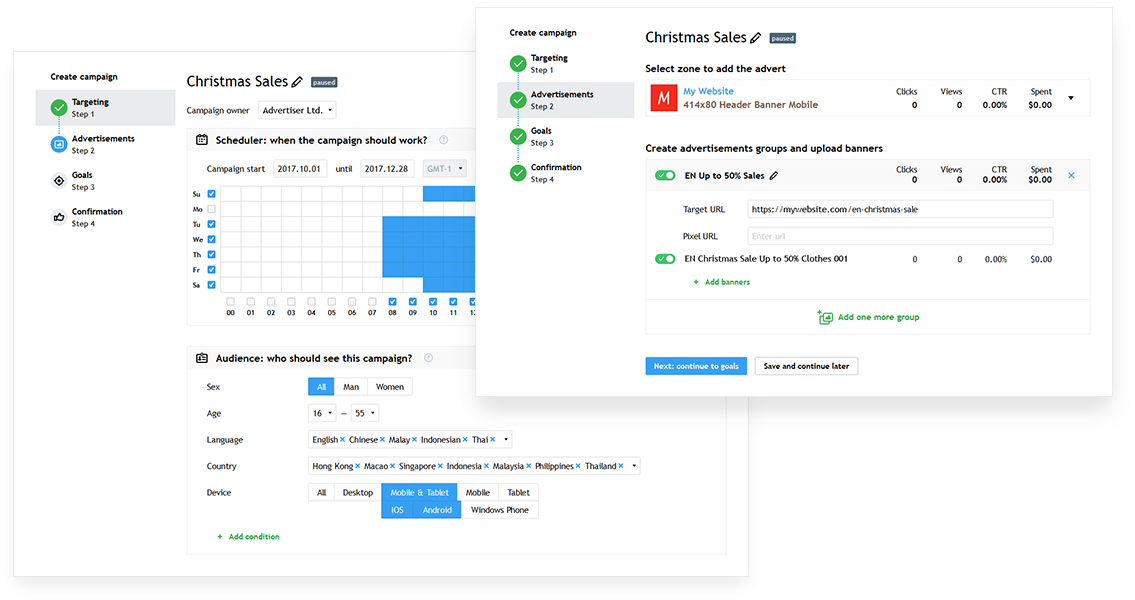 Finteza delivers almost unlimited options to help you configure and target marketing campaigns depending on your goals. For example, in the next month you want to stimulate your site users from Southeast Asia to download a new mobile application for Android. Create a new campaign and configure the standard settings, such as the start and end date, devices (smartphones and tablets running Android OS) to be used and geographic location, as well as the choice of advertising zones on the mobile version of your site for the campaign.
The basic set of parameters is only the tip of the iceberg. Finteza's powerful computing cluster empowered by machine learning analyzes and systematizes a huge amount of data related to all user actions on your site to create each user's profile. Innovative profiling mechanisms link basic user parameters, such as devices and software used, social and demographic data, to their behavioral characteristics, including conversions, visits, viewed pages and other actions. Finteza collects this information to implement unprecedented user profile based targeting capabilities.
Finteza will help you break down your campaign audience into more specific categories to further increase of your conversion rates. For example, you may choose to show ads to users who have already downloaded apps from your site and have signed up for your email newsletter. With Finteza, it is also possible to set various conversion goals and launch marketing campaigns targeting users who have (or have not) performed a conversion action.
In addition to analyzing behavioral characteristics, Finteza offers a very accurate geographical and linguistic definition of users. You can broadcast your campaign to the whole world, or limit its display to one country or city. You may upload to your campaign banner ads or landing pages in several languages, and the system will automatically determine the user's language and show the appropriate message.
With such flexible and precise targeting options, your message will be delivered to the right target market at the right time and place!
Advertising formats
In addition to your campaigns being precisely targeted, all messages in your marketing campaign should be visually appealing to the target audience. Display catchy interactive banners to surprise users and use inspiring texts to encourage them.
Finteza supports the creation of graphic and text blocks of any size and format, including banner ads, landing pages, sliders, popup windows and native ads. Choose from a wide variety of formats for desktop computers and mobile devices: multimedia HTML5 format, animated GIF banners, a simple jpg image or a text ad with a link.
No matter how sophisticated the design of your site or application is, or how complex your marketing materials are — you will enjoy easy management and effective conversion provided by Finteza.
The entire campaign management process in Finteza is simple and user friendly. You can analyze results and modify your campaign at any stage. Change dates and duration, add or exclude advertising zones and marketing materials, launch and pause campaigns in just a few clicks.
Using the unique functionality, you will be able to run fine-tuned marketing campaigns. Create an account in Finteza and benefit from conversion growth!
See also: