The most in-depth analysis of your marketing data for effective advertising. Finteza features full-cycle data management to provide the most relevant information whenever you need it.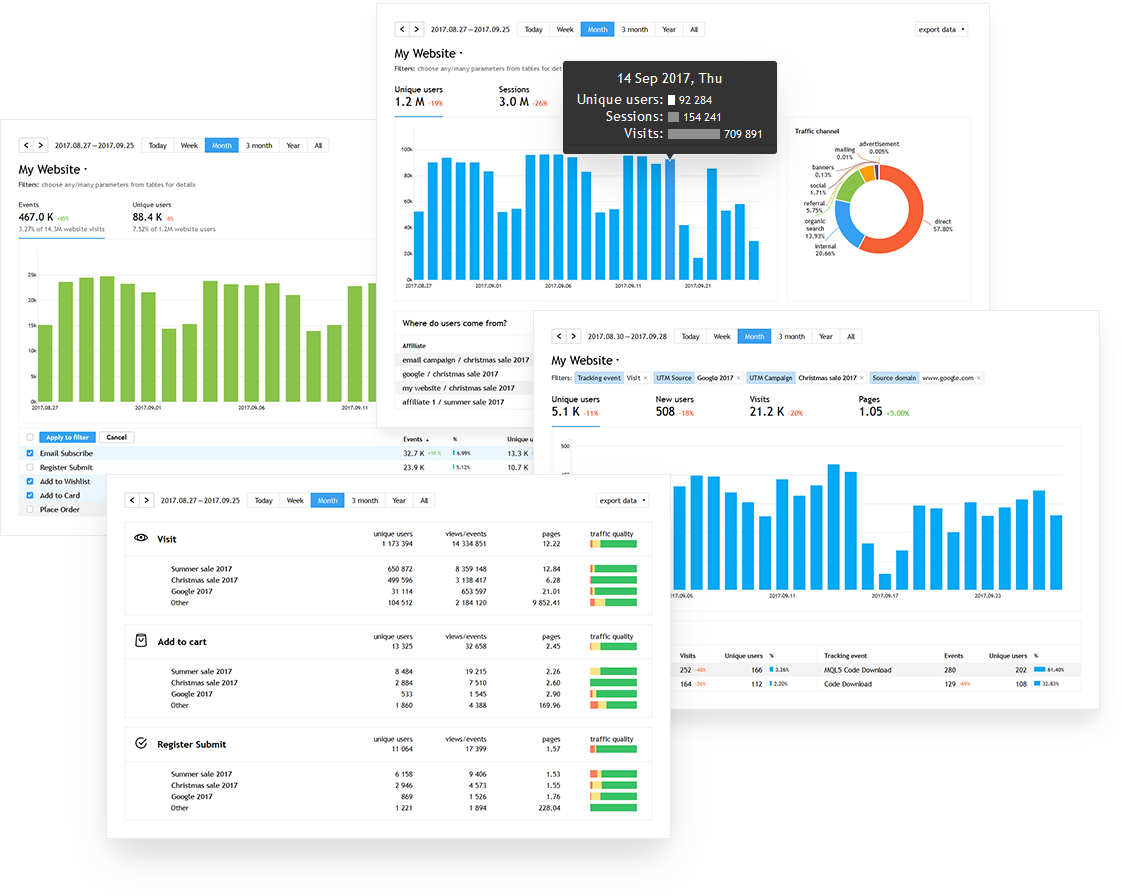 The system captures information in real time, processes and presents its in a convenient form to ensure you can access the most relevant data whenever you need it.

Add Finteza code to your site or launch a banner and start receiving real-time data right away. Unlike other analytical systems, Finteza compiles information into an interactive online report rather than providing a handful of unprocessed data. The system instantly notifies you of everything that happens on your site.
Finteza automatically tracks a variety of metrics, such as page views, user agents and web browsers used, events, UTM tags and much more. This information is instantly delivered into the system, where it is processed and prepared for further analysis. When a user visits your site, the system immediately informs you where the user has come from and how often he visits the site, what the user is interested in, and much more.
Audiences and samples in one click
An analytical sample can be created in just one click All analytical metrics including the user agent, event, UTM tag, URL page, referral and geographic location, can be clicked to filter data. If you want to view statistics and conversion rates of mobile users, click on the chart footnote: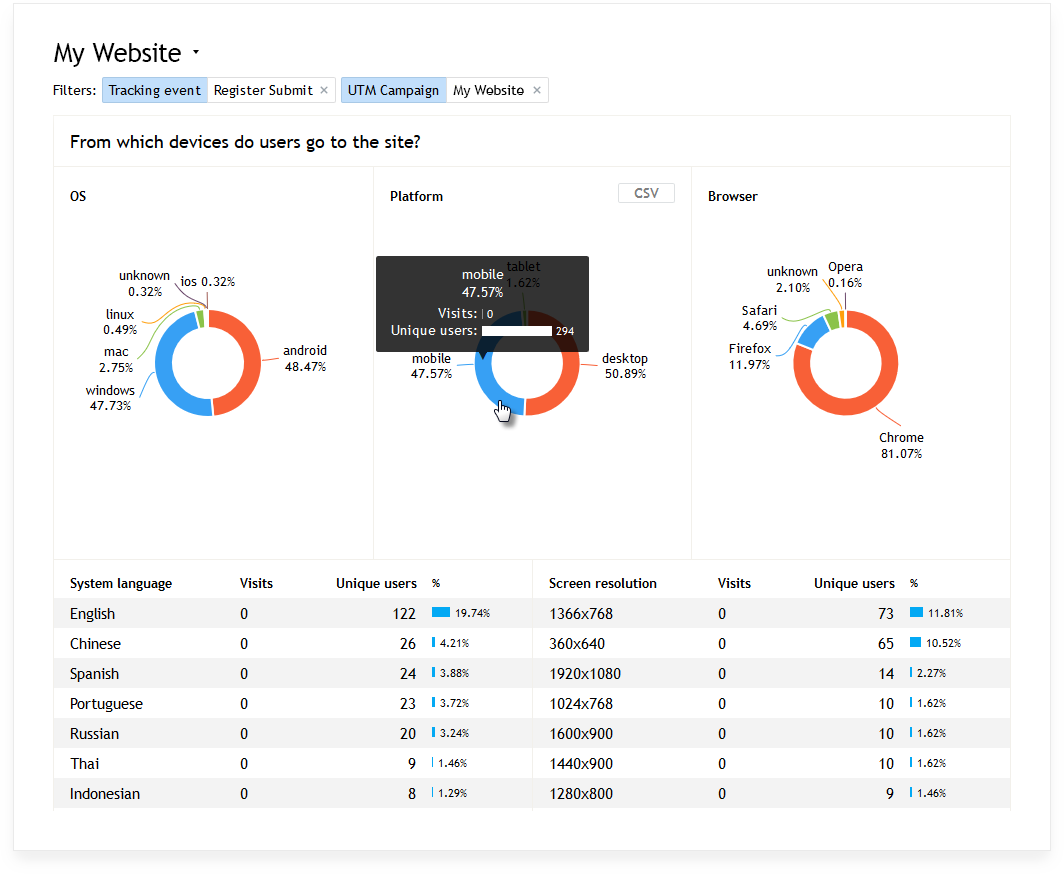 Now, all sections of the filtered report provide specific information about mobile users, such as the language they speak, the operating systems they use and permissions they have.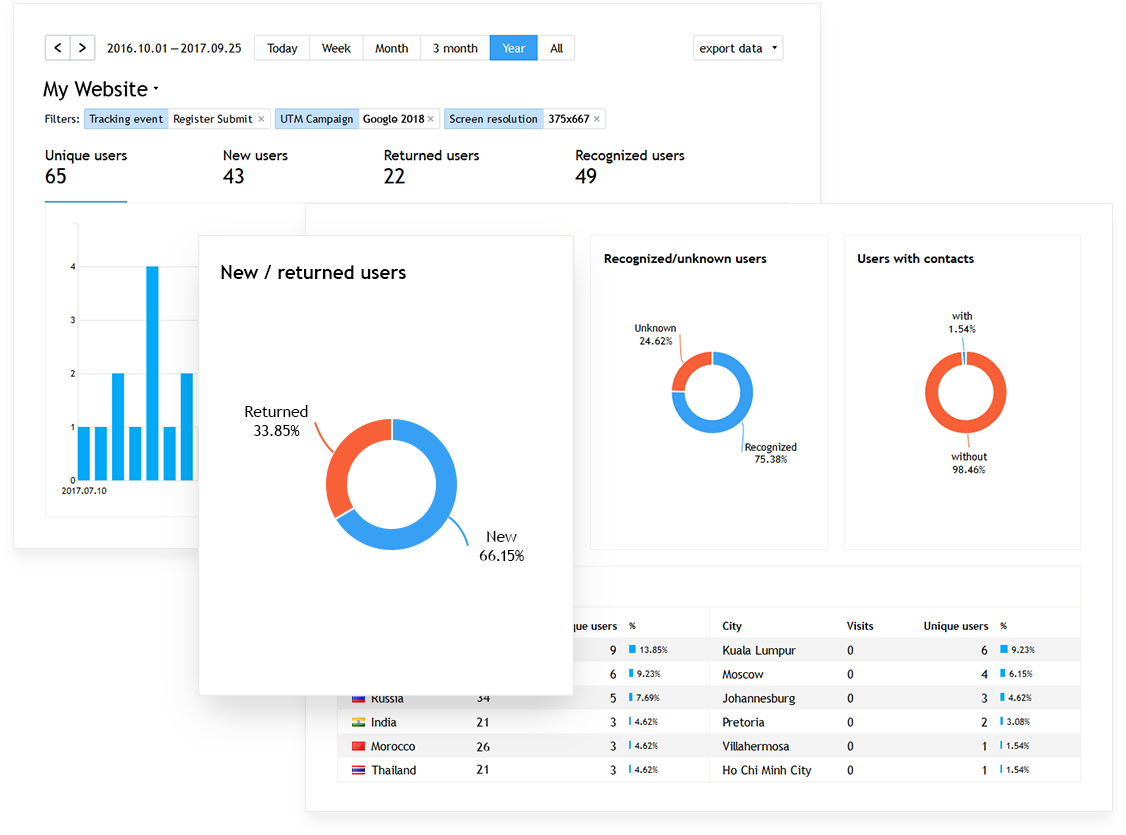 Furthermore, Finteza can create complex multi-level samples. The Mobile sample can be additionally filtered by any selected value. For example, you may choose utm_campaign=google_2018, select the registration event, and screen resolution 375x667. The system will display information about all mobile users using iPhone 6-8, who came from the Google 2018 ad campaign and clicked on the Registration button.
Do you want to further narrow the audience down to, say, UK residents? Select a geographic filter and evaluate the effectiveness of your advertising for users from the UK. Do you want to expand the sample and add more countries? With a few more clicks you can generate a relevant report on multiple selected countries.
Create an account, add the Finteza code in your site and analyze its users in real time!
See also: