Create, launch and analyze marketing campaigns in your websites and apps. Reach your potential audience with advanced Finteza analytics and traffic management tools.
Use precise targeting and powerful content to push the users to perform the action you expect from them: to purchase a product, download software or complete registration.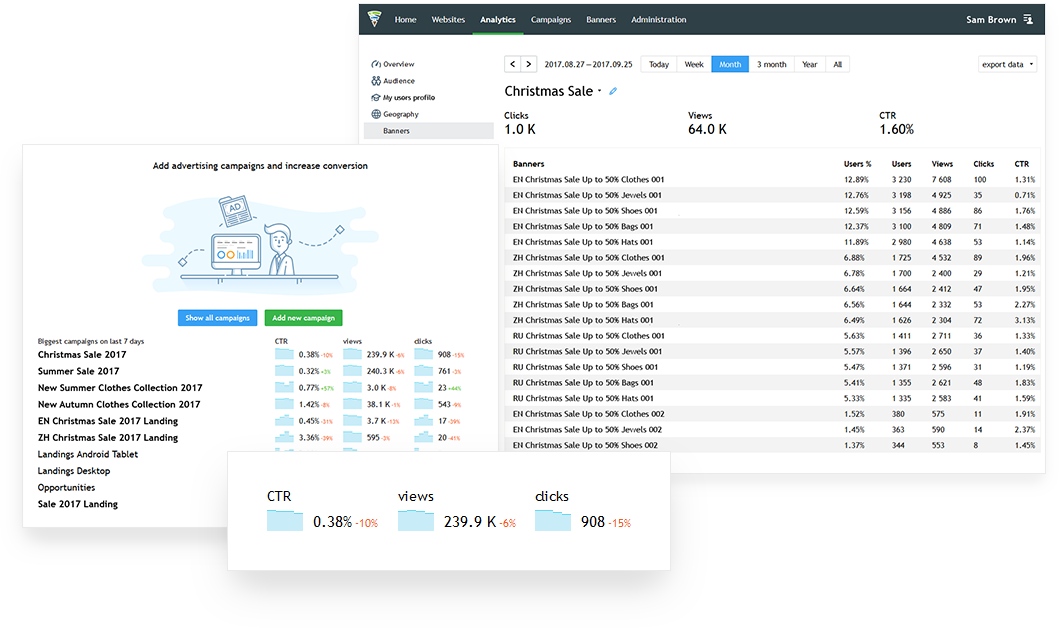 The service allows you to manage banner ads, landing pages, native ads, as well as information and text blocks. One marketing campaign can be simultaneously launched in multiple sites and apps connected to the system.

To optimize your site conversion, perform an exhaustive analysis and identify where you lose leads. Run campaigns that target non-converted users to revisit and improve your marketing practices. Another technique offered by Finteza to further increase conversion rates is the segmentation of audience into several groups, to which you display different promotional material.
Efficiency of all your marketing campaigns can be analyzed in real time. Study detailed reports on impressions, clicks and CTR for individual ads or the entire campaign. Compare advertisements, disable ineffective banners, add new materials and track the user reaction for smarter decision making. All this can be done in a fast and convenient manner.

Finteza delivers cutting-edge powerful tools for the most efficient advertising management!
See also: