Add the Finteza code to your site and access powerful real-time website traffic analysis tools: the number and quality of site visitors, page views, bounce rate and many other metrics. Reveal weak points of your site and optimize it.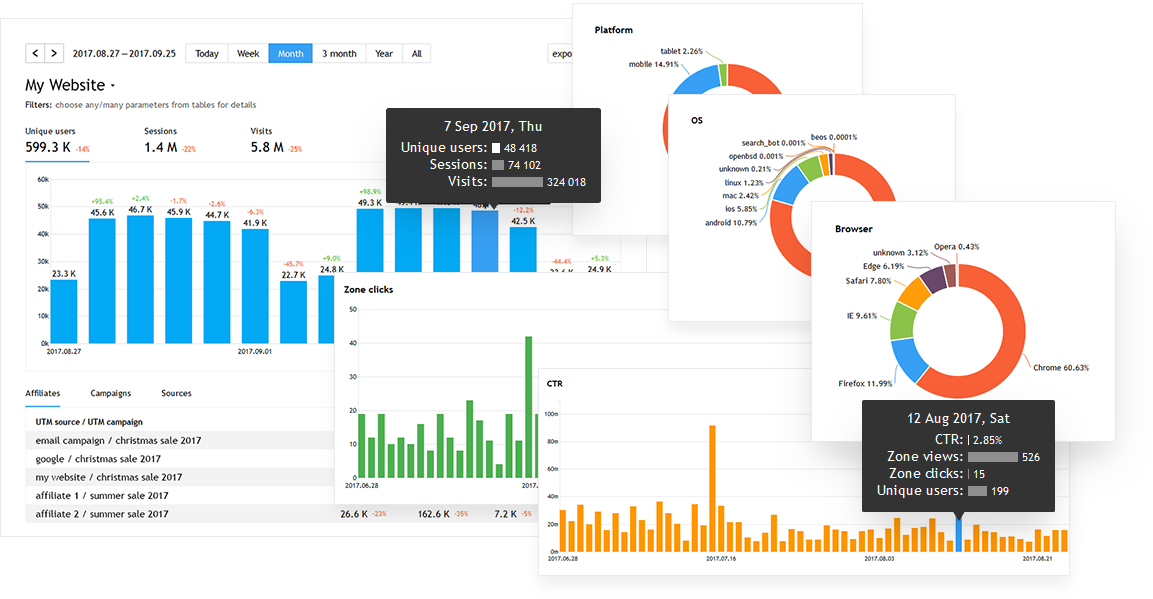 Automatic traffic quality measurement
One of the most remarkable features implemented in Finteza is the multi-step traffic quality measurement. Comprehensive botnet analysis, complex user behavior analysis, accurate tracking technology and unique accounting algorithms enable Finteza to detect low-quality traffic.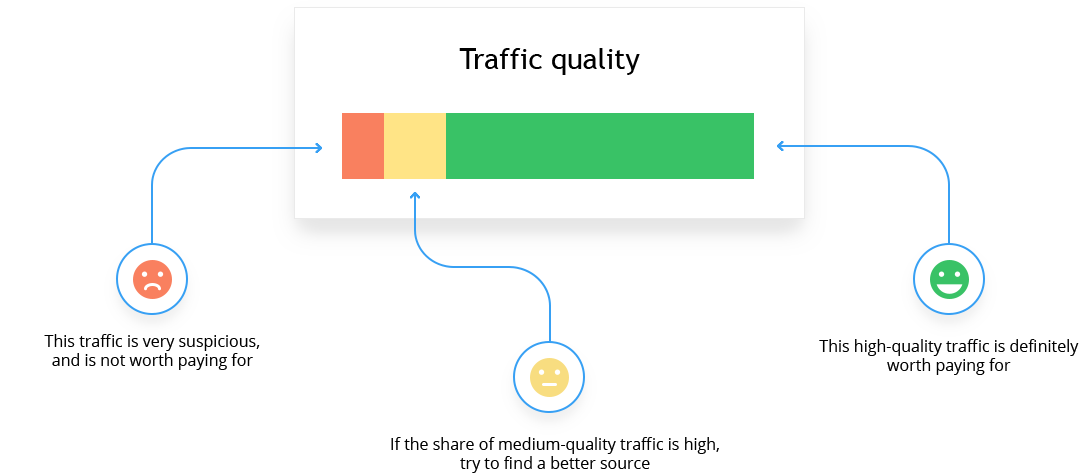 Finteza tells you who visits your site, whether your traffic source is efficient and how conversion can be optimized. With these details in hand, you can improve your website performance and save on advertising budgets.
Traffic quality and source analysis
Information on the traffic source lets you know how many visitors you have and where they come from. The system automatically breaks down data into groups based on source types and provides quantitative metrics for domains and specific referral pages. Finteza provides information about the languages ​​and geography of visitors, the devices they use, screen resolutions and other basic parameters needed for webmasters.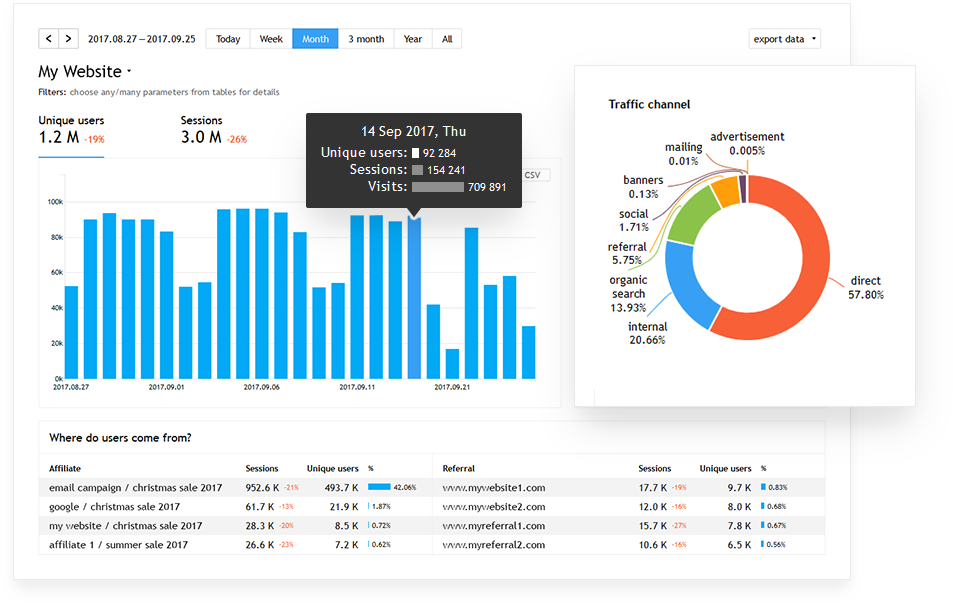 To help you evaluate traffic quality, the system tracks what pages and in what order visitors view, how long they stay and what actions perform, where the highest bounce rate is and other behavioral characteristics. This is essential information for webmaster helping to spot weak points and to eliminate them.
Interactive in-flight reports
Finteza collects information about your website visitors and generates reports in real time to give you a clear insight into traffic quality. All data presented in reports are interactive, allowing the selection of separate segments in just one click. By selecting a group of users, you can view the group specific metrics in all system sections.
This functionality allows analyzing users data from any perspective. You can research buyers of a certain service, residents of a selected city, users of certain devices and detect medium-quality traffic. The system allows you to filter and group data based on absolutely any values.
Report segmentation based on several parameters enables even deeper analysis of your website efficiency. For example, you can analyze the bounce rate from Android smartphone users who come from an ad on Facebook and live in France.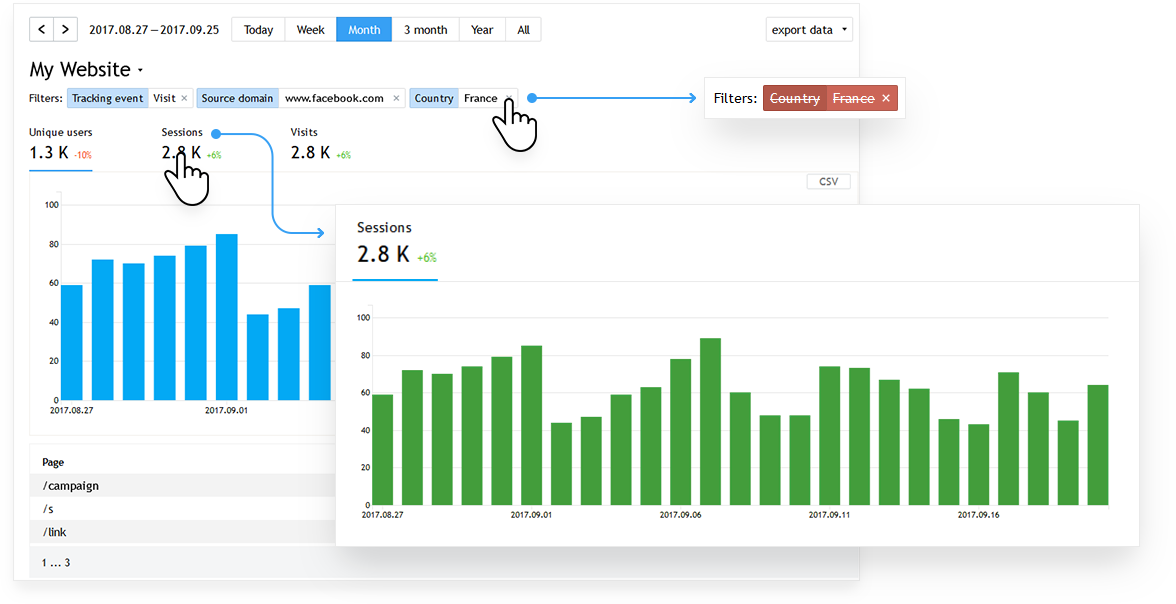 Finteza supports any depth of data history based on pre-sets or manually specified dates. For a better visual analysis, reports can be presented in the form of charts, tables, histograms and maps. Finteza transforms collected data into actionable reports to help you understand how your website is working for you.
Create an account in Finteza, add the code to your site and test the webmaster functionality for yourself!
See also: