We continue to develop the Finteza advertising and analytics system: new features enable the creation of conversion reports for any actions. The system collects relevant statistics based on user-selected conversion goals.
With properly configured goals, you can receive reports on conversions rates and their total number, based on which you can further optimize conversions. An essential advantage of Finteza is that it sets no limit on the number of goals, unlike other popular analytics systems. For example, you can set 20 goals for small sites or 200 goals for large portals without any limitation.
Currently, the system supports two goal types:
Target page. A conversion is recorded when a user visits the desired page, such as a purchase completion page.
Event. A conversion is recorded when a user performs the desired activity, such as registration, watching of a video, purchase of an item, or addition of an item to the cart.
To start tracking an event, add an appropriate goal in the Goals tab in site settings, or under the Events section. Then, specify the attribution window and the system will automatically start registering conversions.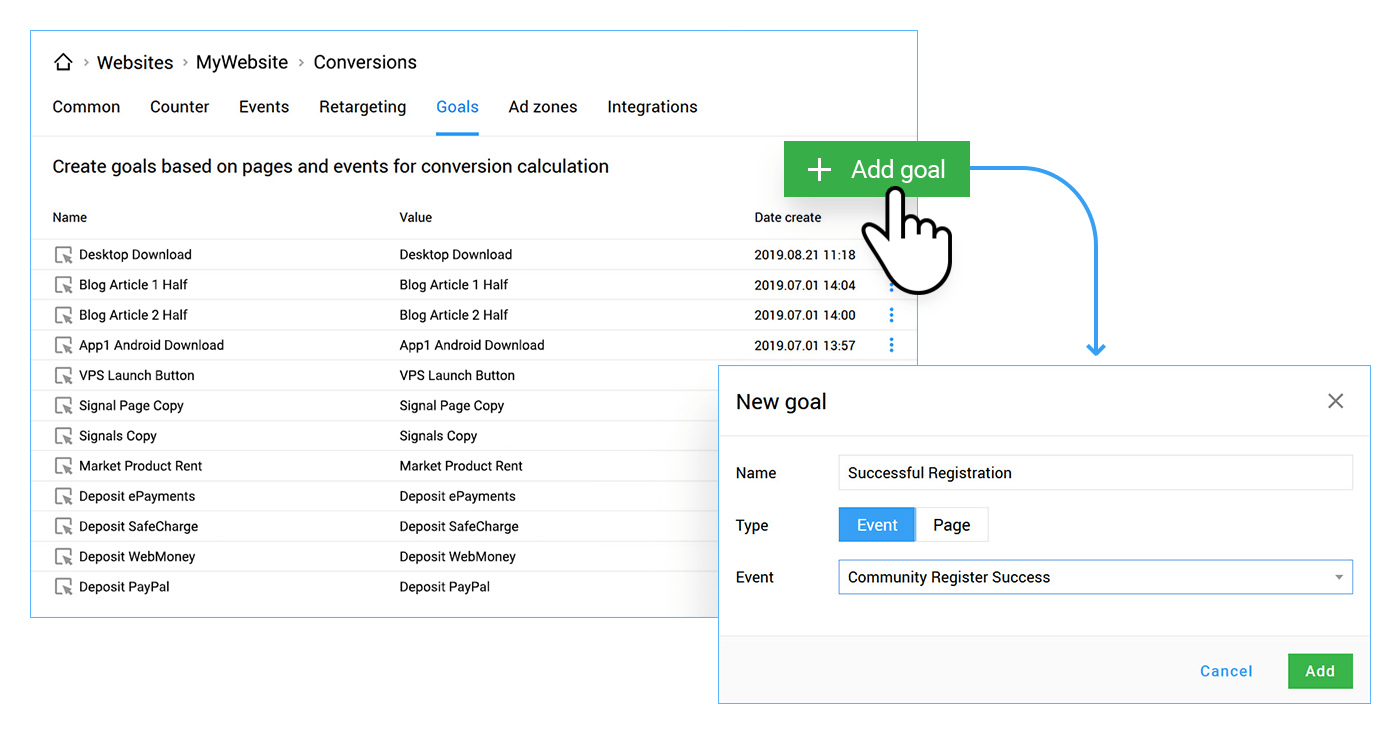 The general report provides data on the number of users who completed the targeted activity, along with conversion rates reflecting the percentage of users who performed the targeted action among all the visitors.
This overview report provides an efficient tool for determining the general site conversion rate. This enables an evaluation of your business goals along with further tracking on how visitors are converted into clients.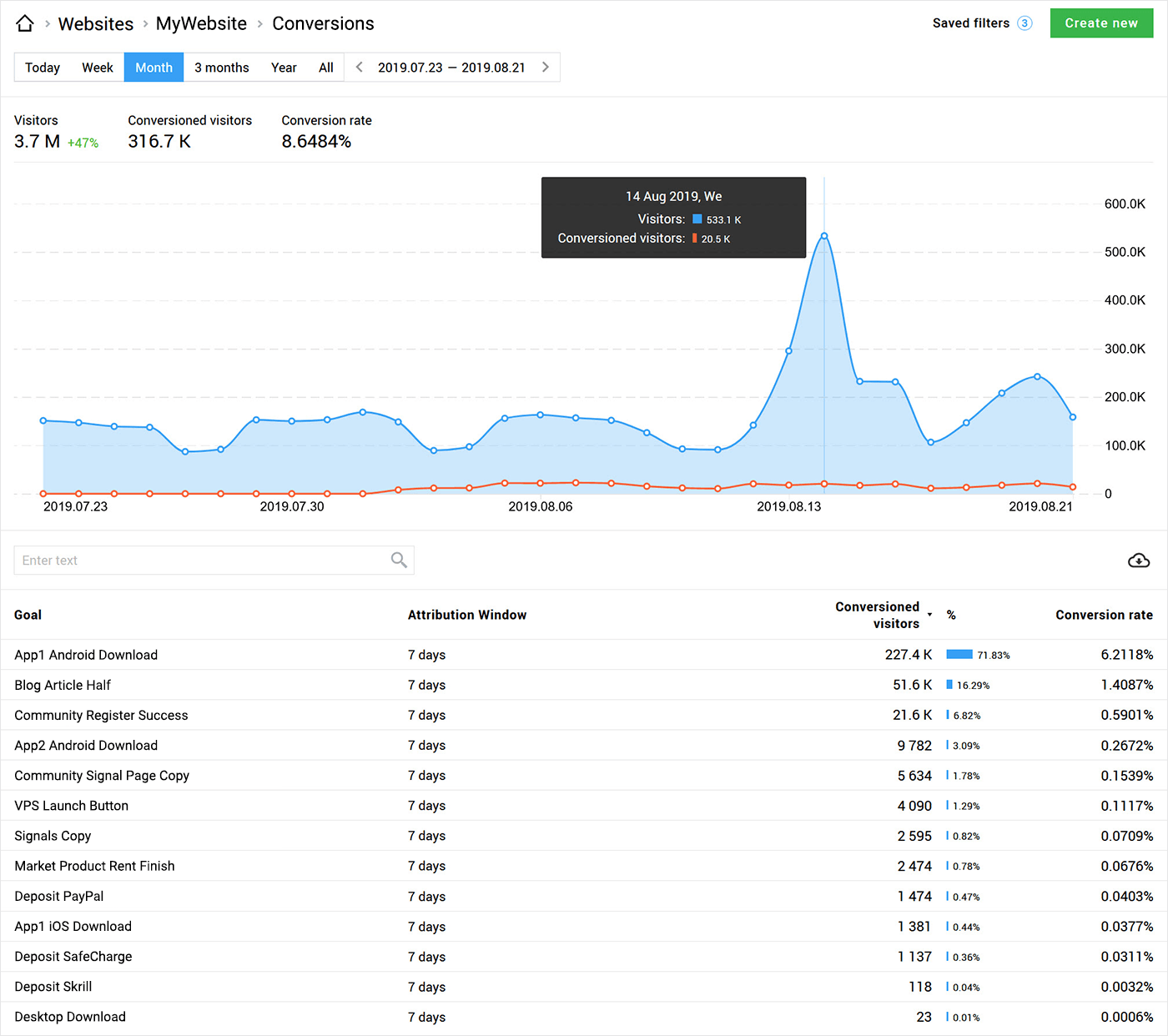 The report will show if any of your business tasks have failed. For example, your registration conversion rate is 50% while conversion to purchase is only 0.5%. This means that only one of a hundred registered users makes a purchase. You can find out the exact reasons for low conversion rates with Finteza.
A detailed report will help you in optimizing conversions. The relevant statistics reflect the number of unique converted users, conversion rates and conversion channels. Which channels have the highest contribution in achieving company goals: direct, referral, search or social traffic?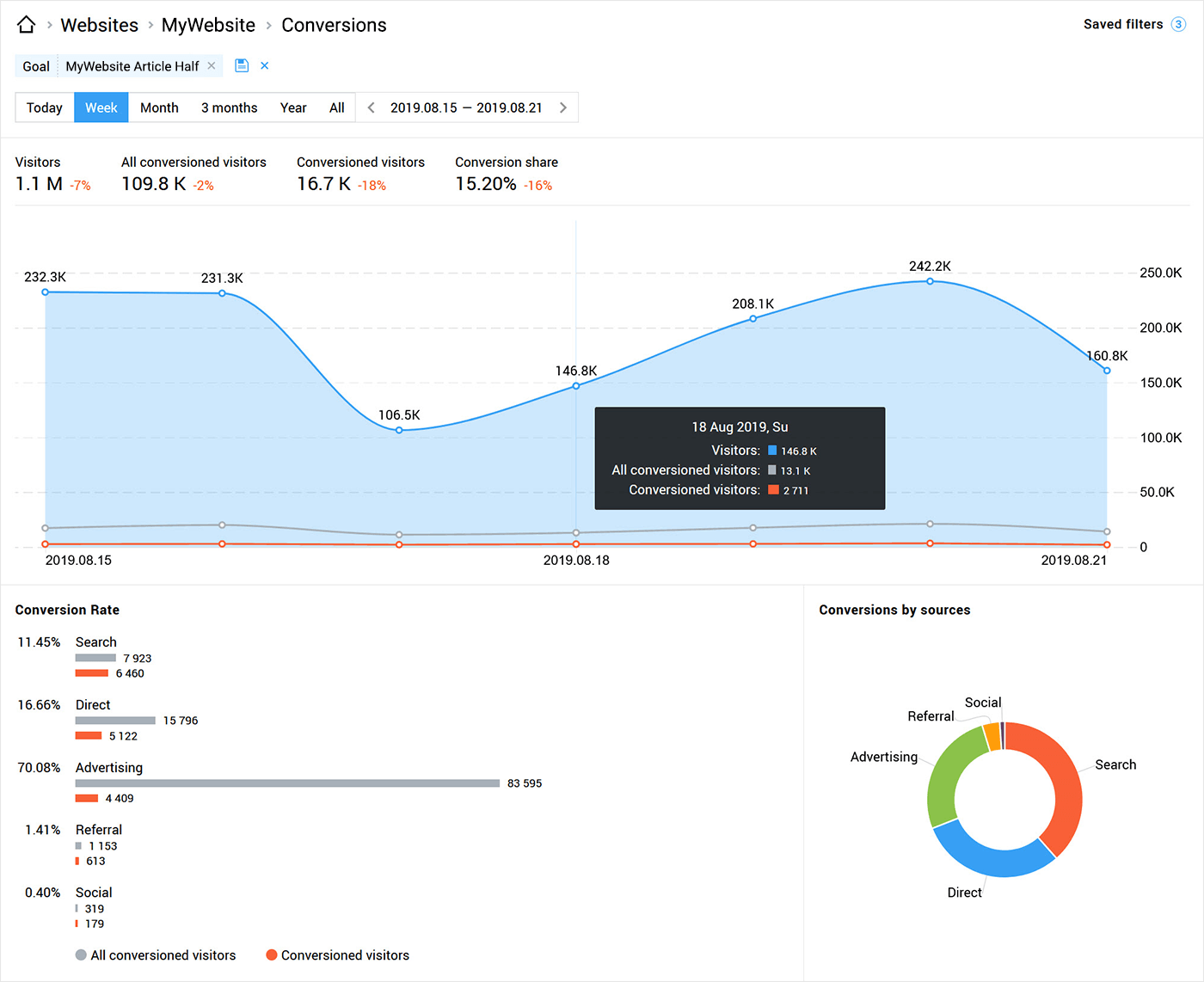 Further insights are also available. For example, referral traffic is provided with a breakdown by external resources and their specific pages. Conversions in Finteza can also be tracked by UTM traffic. You can mark advertising traffic with tags to collect incoming audience details.
For example, UTM tags can be added to Google Ads links to identify campaigns, ad groups, ads, and even specific keys. Analyze UTM traffic to find out the combination of elements that produces the best conversion rate.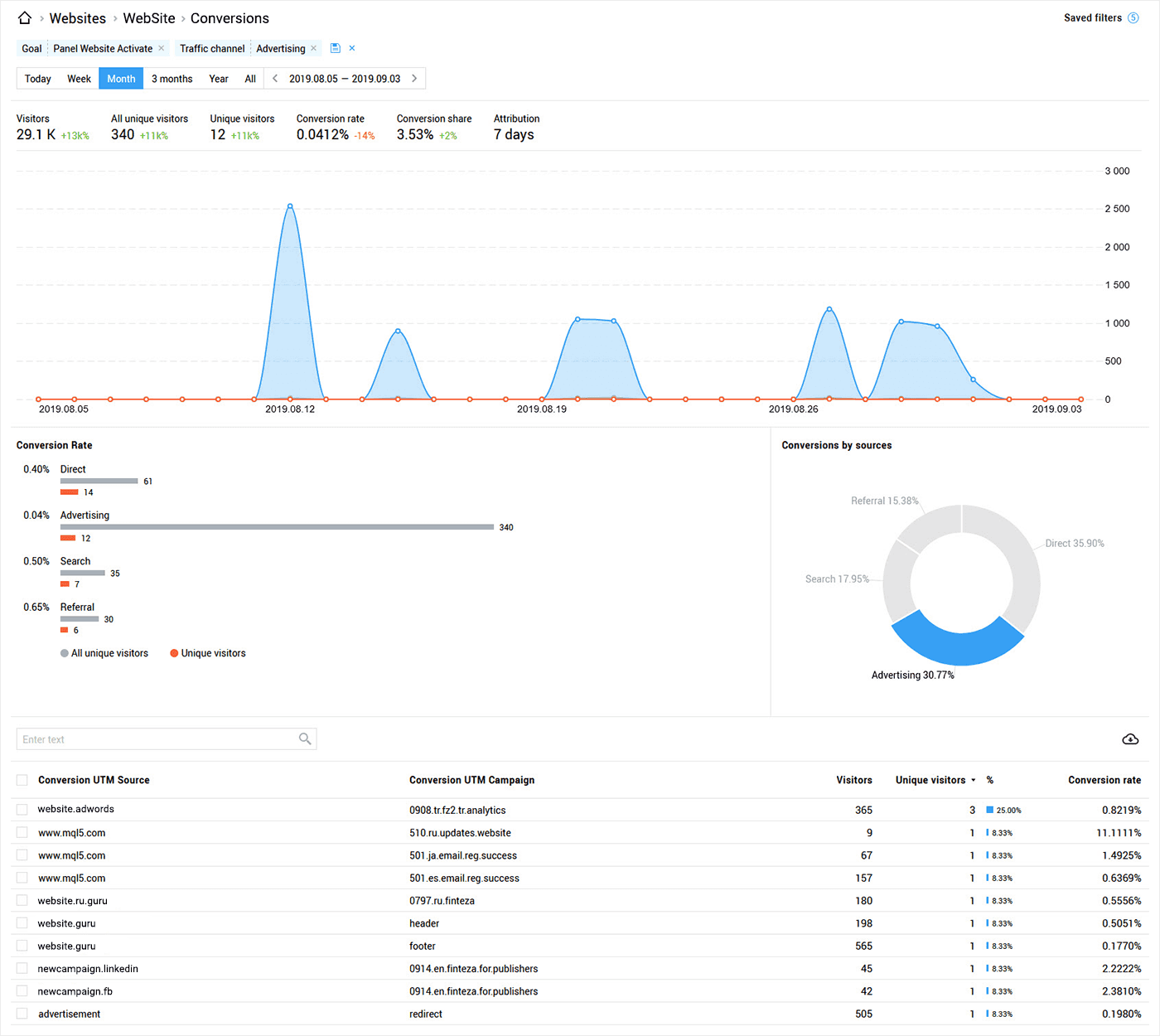 Furthermore, detailed conversion reports can be used as filters in any other system reports. Select the audience of users who made purchases and switch to other analytics sections:
Audiences. Access the pen portrait of your audience. Data on devices, operating systems, geographical location, organizations and user action logs will assist in targeting the right audience.
Pages. This data shows the path your users take before they reach the desired goal. Optimize the stages to increase conversion rates.
Quality. Check the traffic quality: conversions can also be performed by suspicious users (yellow traffic) and thus you should include such audience in the analysis.
Advertising zones. Determine the advertising campaigns which engage users and lead to purchases.
Events. Analyze other activities and goals performed by users in your site. For example, users may watch an ad before making a purchase.
Funnels. Analyze the audience behavior related to other action chains. For example, how buyers of the main product (smartphone) purchase related products: mobile operator contracts, cases or power banks.




Updated conversions provide a great tool for analyzing visitors, optimizing loss points and increasing the efficiency of your business initiatives.
Set up conversion goals in Finteza to determine the traffic which exhibits the highest sales contribution and optimize your online marketing campaigns.