Add a tracking code in your site and get dozens of reports related to your audience
Automated traffic quality evaluation
Your site visitors are grouped by quality, from real users to bots. Are you certain that all your visitors are real physical persons to whom you can promote or sell the desired services?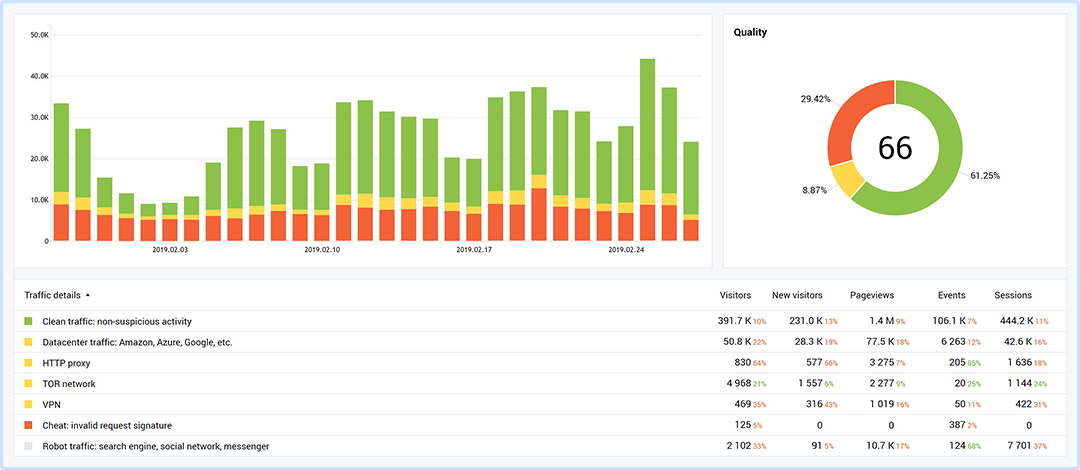 Classification is simple:

Green represents pure traffic, which includes real users
Yellow reflects suspicious traffic
Red indicates unwanted traffic
Use the report to evaluate purchased traffic. Find out which partners drive target users and which sources generate useless traffic and noise. Do not spend your budget on inefficient channels.
Conversion funnels
Break down user statistics into action chains and evaluate the true efficiency of various sales channels. Use conversion funnels to detect conversion loss points, to optimize your site and to boost profits.
Access in-depth analytics featuring the following details:

Traffic source: channels, referrers and UTM-based traffic
Traffic quality
Technical parameters: devices, permissions, operating systems and user agents
Countries and languages
Companies

Separate the channels generating conversions from the inefficient ones.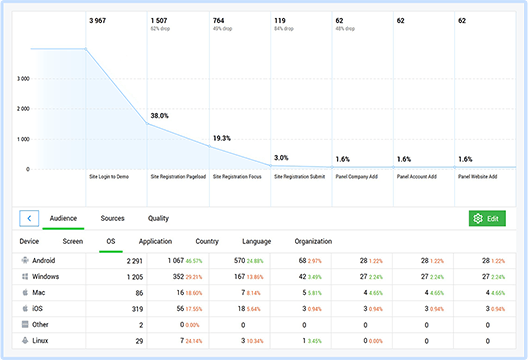 Traffic sources
In addition to traditional direct, referral, search and social traffic types, we have implemented traffic grouping by UTM. Evaluate Facebook in terms of traffic attraction efficiency and accurately determine commercial referrals resulting from the individual advertisements posted therein.

Such detailed traffic analysis can be provided for any resource. Do you want to measure conversion of adverts in Google Ads? Separate reports are provided for generalized referral statistics and organic search traffic.
Companies
Do potential customers visit your site? What are they interested in? Is it a good time to make a special offer and convert them to real clients? With Finteza, you will gain insights on who is just browsing your site and who is ready to complete a deal.

This report is especially vital for B2B companies: every client is very valuable and requires an individual approach.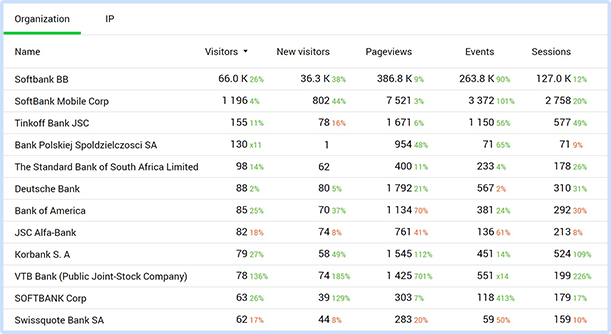 User database
All user actions are logged and presented in comprehensive reports. Analyze your site user behavior: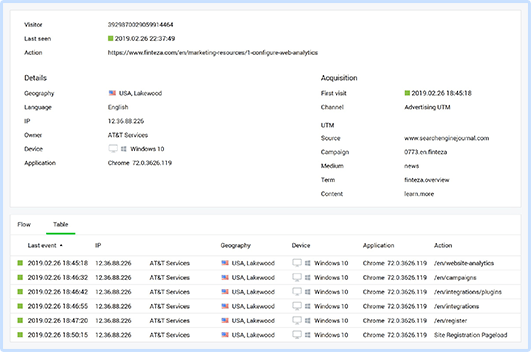 Page view histories
Actions performed in the site
Ad banner views and interactions
User devices, OS and browsers
IP addresses and other details
These details can be utilized for the creation of automated funnels and for the development of user engagement policies.
Other reports
Access traditional basic metrics and reports to analyze the following:


Additional benefits
Sophisticated user interface Our UX specialists ensure the efficiency of every element for the best user experience.
Intuitive filtration system Each report element can be clicked and used as a data filter.
Data export Do you want to conduct further analysis in third-party systems? Use advanced exporting facilities.
We do not slow down your site The geographically distributed network of servers ensures the fastest possible request processing.
Real-time mode Your site metrics appear in the system and become available to you instantaneously.
No data sampling We provide only actual statistics, while data sampling and extrapolation are completely eliminated.
How to launch Finteza in your site
Create an account

Register your site

Add a tracking code to your site

Analyze statistics in the system
Finteza will start collecting the relevant data in real time.
Step-by-step instructions



How much does it cost?
The system is absolutely free. Start using Finteza right now!
Let's analyze your site
The system is absolutely free to connect and use